Vote for WORC on the 2012 CREDO Ballot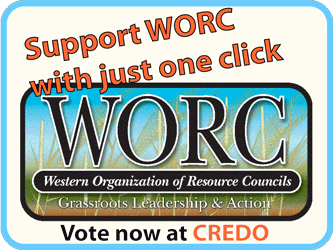 The Western Organization of Resource Councils was selected as one of 40 organizations for the 2012 Working Assets/CREDO funding ballot. CREDO members and CREDO Action activists vote throughout 2012 on how to allocate the donations. In early 2013, WORC will receive a portion of the donation pool based on the percentage of votes that we receive.
Your votes can help WORC continue our mission of advancing a democratic, sustainable, and just society and promoting homegrown prosperity through community action in 2013.

Everyone can vote and voting is easy.

Are you at CREDO/Working Assets customer?

Even if you're not a customer, CREDO Action Members can still vote! Here's how you can become a CREDO Action member and vote for WORC.
Step One: Click here to get to the CREDO Ballot page,
Step Two: Click the link "New to CREDO"
Step Three: Sign a petition to become registered as a CREDO Action member.
Step Four: After signing, click the CREDO Action Banner at the top of the page.
Step Five: In the top right column, click the link "Vote to divide our 2011 donations." (Note: Even though it says 2011 donations, the link will take you to the 2012 ballot).
Step Six: From the drop down menu, select "CREDO Action member." Fill in the same contact information you used for the petition.
Step Seven: On the ballot page, scroll down to the Environment category. You will have 40 points to allocate. (Yes, you can give all 40 votes to WORC!) After allocating your votes, click "Submit My Votes." And you're done!
Thank you for your votes!