Hydraulic Fracturing
Hydraulic fracturing is used widely throughout the oil and gas industry. Hydraulic fracturing, or fracking, involves the high pressure injection of water, sand and toxic fluids into a rock or coal formation to enhance oil and gas production.
While fracking is an effective technique for increasing oil and gas production, it also has the potential to harm human health and the environment.
Watered Down report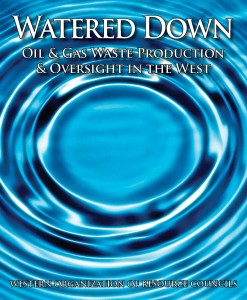 A November 2013 report by WORC shows how regulatory systems are failing to protect residents and communities from the harmful effects of oil and gas development.
Watered Down identifies and examines the dangers to water quality posed by oil and gas production in Colorado, Montana, North Dakota, and Wyoming.
Proposed fracking rules
When Interior Secretary Sally Jewell announced the Bureau of Land Management's new proposed rules for hydraulic fracturing of federal wells, she said, "As we continue to offer millions of acres of America's public lands for oil and gas development, it is important that the public has full confidence that the right safety and environmental protections are in place."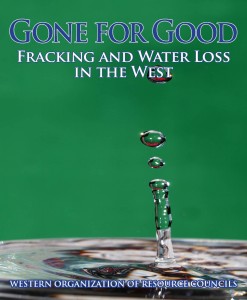 Gone for Good report
Released April 25, 2013, WORC's report, Gone for Good: Fracking and Water Loss in the West, examines on how the states of Colorado, Montana, North Dakota, and Wyoming let the oil and gas industry drain irreplaceable groundwater resources and remove these resources from the hydrological cycle.
This water loss threatens the future of other industries, agriculture, and the families who live near oil and gas development.
WORC urges STRONGER protections
On March 29, 2013, WORC asked the State Review of Oil and Gas Environmental Regulations (STRONGER) to strengthen proposed guidelines on hydraulic fracturing in comments submitted last month. See WORC's comments.
WORC comments on proposed fracking rules
Western oil and gas field residents say the Bureau of Land Management's proposed hydraulic fracturing standards are a good step forward and need to go further to protect clean water, agricultural lands and public health. Read comments and news release.
Congressman censors fracking filmmaker
On February 1, 2012, Capitol Police handcuffed, arrested, and booked Josh Fox, the award-winning filmmaker, for trying to film a Congressional hearing. Josh exposed the dangers of fracking in his film Gasland.
It appears that some members of the subcommittee tried to use the public hearing to support the natural gas industry, its Congressional cronies, and Wyoming state officials in their attempt to derail an Environmental Protection Agency investigation. The investigation draft report links gas drilling and fracking to contaminated drinking water and aquifers in the Pavillion area of Wyoming.
Charges against Fox were dismissed February 15, 2012.
Pavillion landowners support EPA investigation of Wyo. groundwater contamination from fracking
On the day before a Congressional hearing on a controversial study of water contamination from natural gas drilling, impacted residents from the Pavillion, Wyoming area voiced strong support today for the study and investigation process during a telephone news conference.
Here's what landowner John Fenton said.
"When we turn on the tap, the water reeks of hydrocarbons and chemicals. Our drinking water now comes from five-gallon jugs. We wonder how we're going to support our families and pay our bills if the contamination affects our livestock and farming operations. Selling out is no longer an option because property values in the Pavillion area have declined to nothing. Homes and farms can't even be used as collateral. It is clear that if EPA had not stepped in, impacted residents would be no closer to having our concerns addressed than we were over the previous ten years."
More on Pavillion
John Fenton farms near Pavillion, Wyoming, in the midst of the Pavillion gas field. Production tanks, compressors, and other machinery pump poisons into the air. John and his family are worried about their health. John and his neighbors believe hydraulic fracturing is polluting the water.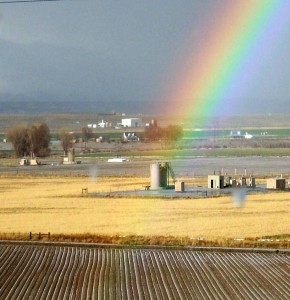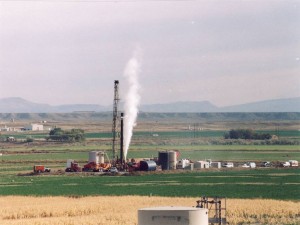 Fracking near John's house.

John Fenton's view of Pavillion
gas field from his front porch.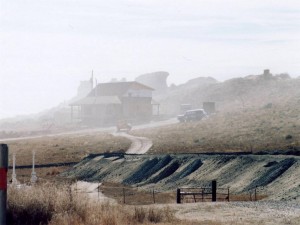 This haze surrounding John's home is not unusual during fracking.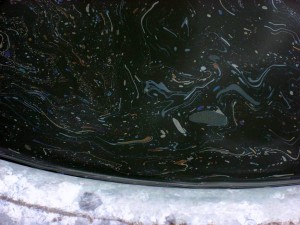 Hydrocarbons collect in stock tank on Louis and Donna Meek's place.
Fracking news
CBS Evening News covers the release of a draft report linking fracking to contamination of water wells in Pavillion, Wyoming. The clip features Powder River Basin Resource Council members John Fenton and Louis Meeks.
BACKGROUND
Further Information