Clean, Renewable Energy
The United States' huge appetite for energy, our reliance on unstable and unfriendly countries for most of our oil, our addiction to dirty fossil fuels, and an irresponsible national energy policy are a deadly combination for the global environment and the Rocky Mountain West.
Our dependence on coal, oil and gas fuels global warming. The Bush Administration's rush to spur domestic natural gas production was harming western agriculture, water, communities, wildlife and public lands.
Fortunately, there is a good solution to our nation's energy crisis—developing the West's vast supply of clean and renewable energy. Renewable energy and energy efficiency are the fastest and most reliable way to increase energy supplies.
They also create more jobs than fossil fuel development, lower natural gas and electricity prices, and benefit the environment. Renewable resources are a common sense step away from our dependence on an unstable, unclean fossil fuel supply, and toward a new energy future.
WORC supports:
Biofuels: Clean Renewable Fuel from Farms –The expanded use of biofuels is a cheaper, more realistic and more immediate solution to our energy problems.
Renewable Electricity Standard – State and federal policies should set renewable electricity standards to require utilities to buy or generate a specific percentage of their energy from clean, renewable sources by a specific date.
Farm Bill Renewable Energy Program – The 2002 Farm Bill's Renewable Energy Systems and Energy Efficiency Improvements Program should be fully funded to make grants and loan guarantees to farmers, ranchers and rural small businesses for renewable energy project.
Survey finds strong bi-partisan support for clean energy and deep concern about water and fracking
Majorities of Republicans, Independents and Democrats agree that the United States should move away from its reliance on dirty energy sources that foul the air and water and toward a future that makes greater use of clean energy sources, according to a major new ORC International survey conducted for the nonprofit and nonpartisan Civil Society Institute.
Former WORC chair builds community wind project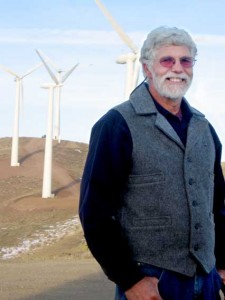 Randy Joseph has long been excited about the prospects for locally-owned renewable energy and first conceived of his wind project in 2005. Since then, Randy and his family plowed through the financing, contracting, constructing, and navigating federal regulations to complete their Lime Wind Project.
On November 10, 2011, Randy held a ribbon-cutting ceremony for his six wind turbines atop high hills 40 miles southeast of Baker City, Oregon.
The three-megawatt facility supplies enough power for 800 homes. The Lime Wind Project is the first wind project in Baker County and the first one on federal land in Oregon.

Randy is a member of Oregon Rural Action, a WORC member group based in eastern Oregon. He served as WORC's chair in 2008 and participates in WORC's Clean Energy Team.
"Community renewable energy, whether wind powered or solar, is a brilliant idea for rural America because that is where the resources are," Randy told The Furrow, ORA's newsletter. "They are not found in the metropolises of our country, they're found in our rural communities."
Not-so-clean energy standard
President Barack Obama urged Congress in early 2011 to pass a "Clean Energy Standard" (CES). The standard would require that 80 percent of the nation's electricity be generated from low-carbon energy sources including natural gas, nuclear energy, and carbon capture and storage to meet that 80 percent target by the year 2035.
WORC has criticized the standard because it ignores the harmful effects of fossil fuels and nuclear power on air, land, water and public health, and does little to spur a meaningful transition away from dependence on fossil fuels.
The proposal misses an opportunity for the United States to become a leader in the production of truly clean and renewable energy. A report released in November 2011 by WORC and the Civil Society Institute found that the United States could meet electrical needs by 2050 from energy efficiency and clean, renewable sources such as solar and wind, while phasing out all coal-fired power plants and some nuclear plants, as well as reducing the amount of natural gas consumed.
Senator Jeff Bingaman (D-NM) introduced S. 2416, creating incentives for the highly profitable oil, gas, coal, and nuclear industries. If we truly want clean energy, we should focus on energy efficiency and renewable energy that doesn't run out.
White House, Congress out of step on fossil fuels & nuclear power
If Congress thinks it has found a winning issue in trashing wind and solar power ... and if the Obama Administration believes that voters will reward it for boosting coal, gas and nuclear power ... then both ends of Pennsylvania Avenue are making serious miscalculations about the sentiments of mainstream Americans - including Republicans and Tea Party supporters - one year before the 2012 elections, according to a major survey by ORC International for the nonprofit and nonpartisan Civil Society Institute.
Taking the Pulse of the Mountain States
Results from the 2012 Colorado College State of the Rockies Conservation in the West poll find that western voters across the political spectrum – from Tea Party supporters to those who identify with the Occupy Wall Street movement and voters in-between – support upholding and strengthening protections for clean air, clean water, natural areas and wildlife and view parks and public lands as essential to their state's economy.
The survey, completed in Arizona, Colorado, Montana, New Mexico, Utah and Wyoming, found that four in five western voters view having a strong economy and protecting land and water as compatible.
An earlier bi-partisan poll of inter-mountain West voters in 2011 shows that a strong majority believe that environmental standards and a strong economy can coexist. The findings, from the first-ever "Conservation in the West Survey," reveal differences and many points of agreement among voters on issues such as conservation, regulations, renewable energy and other environmental issues.
Report Points Toward a Sustainable Future for the U.S. Power Sector

Toward a Sustainable Future for the U.S. Power Sector, by Synapse Energy Economics for the Civil Society Institute, outlines a realistic path for a cleaner and less expensive energy future. The report also finds that Westerners would likely see lower electricity costs by 2020 if the U.S. adopts a long-term strategy to replace coal-fire electricity with energy efficiency and renewable resources.
Beyond Business as Usual: Investigating a Future without Coal and Nuclear Power in the U.S.
A 2010 report by Synapse Energy Economics for the Civil Society Institute outlines a "transition scenario" that would step up energy efficiency and use of clean, renewable energy, allowing the country to retire all coal-fired power plants and over a quarter of existing nuclear reactors. A WORC fact sheet summarizes this report.
Coloradans and Montanans support renewable energy, energy efficiency, and fuel-efficient vehicles
If elected officials are going to continue investing in energy through subsidies, tax breaks and other incentives, the focus should shift from coal and nuclear power to promoting wind and solar energy, enhanced energy efficiency, and highly fuel-efficient vehicles, according to surveys of Colorado and Montana adults conducted for TheCLEAN.org and the Civil Society Institute. The surveys were released in 2008 with Western Colorado Congress and Northern Plains Resource Council.
Resources
Frequently Asked Questions About Renewable Energy
Renewable Energy Policy Options
Renewable Energy in the West and Great Plains
Renewable Energy Atlas of the West
Clean Electricity Options for the Pacific Northwest
Repowering the Midwest - The Clean Energy Development Plan for the Heartland