Clean up air pollution from oil and gas drilling and fracking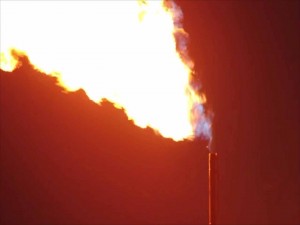 Oil and gas drilling and fracking are the second largest source of industrial climate pollution in the country. In a rush to drill and frack as fast as possible, oil and gas companies waste huge amounts of valuable energy by venting or flaring it into the air.
Methane – the principal component of natural gas – is 86 times more polluting than carbon dioxide, per pound. And when oil and gas operations release methane into the air, they also spew out a host of other air pollutants, like volatile organic compounds that contribute to asthma, and cancer-causing benzene.
Go to WORC's Action Page to tell the Environmental Protection Agency and the Department of Interior to prevent wasteful methane leaks and flaring and to protect clean air.
Employment opportunities in the WORC network
Powder River Basin Resource Council, Community Organizer, Cheyenne, Wyoming area
Oregon Rural Action, Executive Director, La Grande, Oregon
Northern Plains Resource Council & Montana League of Rural Voters, Canvassers, Billings, Montana
Northern Plains Resource Council, Political Organizer/Political Organizing Director, Helena, Montana
Northern Plains Resource Council, Field Organizer, Billings or Helena, Montana
Voices from the Bakken - Fighting Back
A snapshot of residents defending their water, land, communities, and families from the harmful effects of booming oil drilling in the Bakken region of northwest North Dakota.
Hydraulic Fracturing Photos
John Fenton and his
neigbors deal with the impacts of gas
drilling and hydraulic fracturing daily.
Click on Learn More to
view photographs.

Powder River member Audrey Malan gives thanks for local food and local producers in a High Plains News radio commentary.