WORC to appeal decision on coal lease program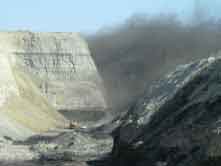 A federal court in Washington, D.C. today dismissed litigation brought against the Department of the Interior and Bureau of Land Management (BLM) by Friends of the Earth and the Western Organization of Resource Councils (WORC) to require the BLM to conduct a supplemental Programmatic Environmental Impact Statement on the federal coal leasing program. The litigation is supported by the Paul G. Allen Family Foundation.
"Ultimately, we believe that the administration's resistance to comprehensively assess the programmatic environmental impact of the federal coal leasing program endangers the health of our local communities, fails to meet the goals of the U.S. Climate Action Plan, and is a raw deal for taxpayers," said Bob LeResche, Chair of WORC.
WORC applauds new EPA methane pollution standards
On August 18, the Environmental Protection Agency (EPA) released the first federal rule to regulate methane emissions from oil and natural gas production. In the western United States methane is often intentionally flared or vented in oil-rich formations in the Bakken and Niobrara shale on private, federal, and tribal land.
A toxic pollutant, methane contributes to smog, adversely impacts public health, and is widely reported to be one of the leading causes of climate change.
No sweetheart deals for coal!
American taxpayers deserve a fair share of revenue from publicly owned coal, which accounts for about 40% of coal mined annually in the nation. Yet, for decades, the Department of Interior has chronically undervalued our public coal, losing billions in revenue to state and federal governments.
The royalty rates and other fees paid on this taxpayer-owned resource are out of date and in dire need of increase.
The Obama administration hosted listening session to get feedback from the public about how to modernize the federal coal program.
Go to Stop the Coal Giveaway for more details.
WORC & member groups urge Senate to reject COOL repeal
A coalition of 142 rancher, farmer, rural, consumer, manufacturer, labor, faith and environmental groups from across the United States delivered a letter urging the Senate to reject both the effort to repeal the country of origin labeling (COOL) law and the so-called compromise to convert COOL into a voluntary labeling program for beef, pork and chicken.
Congress enacted COOL for beef, pork, chicken, goat, lamb, seafood and fresh and frozen fruits and vegetables in the 2002 and 2008 Farm Bills and expanded COOL to cover venison in the 2014 Farm Bill. Consumers overwhelmingly support these labels.
Rather than bow to pressure from the meatpacker lobby, the letter urges the Senate "to defend consumers' right to know where their food comes from and the ability of farmers and ranchers to proudly identify their livestock as born and raised in America.
WORC welcomes Fort Berthold POWER
On June 26, the Dakota Resource Council's newest affiliate, the Fort Berthold Protectors of Our Water & Earth Rights (POWER), held a kickoff meeting. The group formed to protect the land, air, and water from the rapid development of oil and gas drilling on the Fort Berthold Reservation in western North Dakota. The WORC network has grown to 40 local groups.
Protests filed on land use plan
WORC joined with the Powder River Basin Resource Council and the Northern Plains Resource Council to protest proposed land use plans for the Bureau of Land Management's Buffalo, Wyo., and Miles City, Mont. field offices.
Together, the RMPs would allow companies to apply for coal leases on 6.3 million acres overlying 78.5 billion tons of federal coal. While not all of that coal would be leased and mined, the BLM estimates that over the course of the plans companies looking to expand and start mining operations will likely apply for 10-13 billion tons of coal.
New radio special examines coal
WORC's radio project, High Plains News, just released a new special program, MOVING ON, BUT NO WAY GONE: Coal in America.
In this sound-rich, half-hour special from High Plains News - produced in association with Mountain West Voices, West Virginia Public Radio and Allegheny Front - we look at the present and future of coal in America.
You can listen to the program here.
Voices from the Bakken - Fighting Back
A snapshot of residents defending their water, land, communities, and families from the harmful effects of booming oil drilling in the Bakken region of northwest North Dakota.
Hydraulic Fracturing Photos
John Fenton and his
neigbors deal with the impacts of gas
drilling and hydraulic fracturing daily.
Click on Learn More to
view photographs.

Powder River member Audrey Malan gives thanks for local food and local producers in a High Plains News radio commentary.