WORC statement on WTO ruling on U.S. country-of-origin labeling
Rancher Mabel Dobbs, Chair of WORC's Ag and Food Campaign Team, from Weiser, Idaho, issued the following statement on behalf of WORC in response to the World Trade Organization's decision yesterday on country-of-origin labeling of meat. WTO found that the goal of the program was legal, but the implementation violates trade rules by treating Canadian and Mexican livestock less favorably than U.S. livestock.
"We are disappointed in the World Trade Organization's ruling on country-of-origin labeling of meat, and we urge the Obama administration to appeal this decision. American consumers have a right to make informed decisions about the meat they buy and eat. American independent livestock producers should be able to differentiate our meat products from our foreign competitors.
"This decision reflects poorly on a trade policy that allows trade agreements to meddle in commonsense programs and protections supported by the American people.
"In addition, we urge members of Congress to resist any efforts by labeling opponents in the meat industry to cripple or kill the labeling program through legislation and to let this trade dispute run its course through the WTO's appeal process."
Clean up air pollution from oil and gas drilling and fracking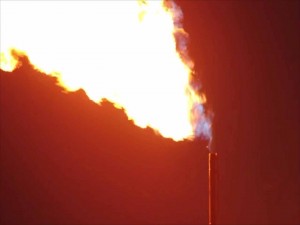 Oil and gas drilling and fracking are the second largest source of industrial climate pollution in the country. In a rush to drill and frack as fast as possible, oil and gas companies waste huge amounts of valuable energy by venting or flaring it into the air.
Methane – the principal component of natural gas – is 86 times more polluting than carbon dioxide, per pound. And when oil and gas operations release methane into the air, they also spew out a host of other air pollutants, like volatile organic compounds that contribute to asthma, and cancer-causing benzene.
Go to WORC's Action Page to tell the Environmental Protection Agency and the Department of Interior to prevent wasteful methane leaks and flaring and to protect clean air.
Employment opportunities in the WORC network
Voices from the Bakken - Fighting Back
A snapshot of residents defending their water, land, communities, and families from the harmful effects of booming oil drilling in the Bakken region of northwest North Dakota.
Hydraulic Fracturing Photos
John Fenton and his
neigbors deal with the impacts of gas
drilling and hydraulic fracturing daily.
Click on Learn More to
view photographs.

Powder River member Audrey Malan gives thanks for local food and local producers in a High Plains News radio commentary.