Comments due on carbon pollution standards Monday, Dec. 1
Power plants produce about a third of all U.S. greenhouse gas emissions, mostly from coal. The new standard would cut carbon pollution from power plants by 30% by 2030.
Go to WORC's Action Page to send your comments to the Environmental Protection Agency.
Groups file lawsuit against BLM's coal leasing program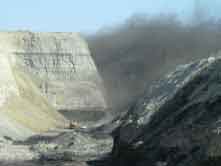 WORC and Friends of the Earth, with the support of philanthropist Paul G. Allen, today filed a lawsuit to require the U.S. Department of the Interior's Bureau of Land Management (BLM) to prepare a programmatic environmental impact statement for the federal coal leasing program.
There has not been a comprehensive environmental review of the federal coal leasing program since 1979. Since that time, scientific evidence has established that greenhouse gases produced by coal mining and combustion endanger the public health and welfare. The BLM, however, has never analyzed the coal leasing program's impact on climate change.
The complaint argues that the results of this analysis will compel the BLM to deliver on its legal obligation to promote environmentally responsible management of public lands on behalf of the citizens of the United States.
"More than 80 percent of federal coal comes from the Powder River Basin in Montana and Wyoming. People living in the Powder River Basin have endured many hardships not predicted in the outdated environmental studies including, lack of access to grazing lands, un-restored groundwater aquifers, toxic emissions from explosions, costly and dangerous railroad traffic in major cities to name a few," said Bob LeResche, Vice Chair of WORC and rancher from Clearmont, Wyo. "A full environmental study will enable the BLM to fulfill their duty to promote environmentally responsible management of public lands in light of climate change on behalf of the citizens of the United States."
New report looks at the natural gas flaring boom
Surging oil production in shale hot spots, like the Bakken in North Dakota and Eagle Ford in Texas, has increased waste of natural gas through flaring, venting, and leaking.
WORC's new report, The Flaring Boom, examines the causes and effects of flaring, venting, and leaking of natural gas by examining efforts to curtail these wasteful practices in Alaska, Colorado, Montana, North Dakota, Texas, and Wyoming.
"Flaring lowers quality of life in oil-producing communities through increased air pollution, deprives royalty payments to those owning the rights to the natural gas, and contributes to climate change," said Donald Nelson, a rancher from Keene, N.D., and Chair of WORC's Oil and Gas Campaign Team.
Nelson has 30 to 40 flares on his ranch. "It's easy to count them at night," he said.
Go to WORC's Action Page to tell the Environmental Protection Agency and the Department of Interior to prevent wasteful methane leaks and flaring and to protect clean air.
Appeal, don't repeal
A World Trade Organization panel ruled recently that the goal of the U.S. country-of-origin labeling of meat – telling consumers where meat is born, raised and slaughtered – is legal, but the implementing rules treat Canadian and Mexican livestock less favorably than U.S. livestock and are, therefore, a trade barrier.
Now, some members of Congress say the United States should repeal or revise the labeling law, even though we could win an appeal of the WTO ruling.
WORC is urging Congress not to change the labeling law.
You can send a message to your Senators and Representative on WORC's Action Page.
Employment opportunities in the WORC network
Voices from the Bakken - Fighting Back
A snapshot of residents defending their water, land, communities, and families from the harmful effects of booming oil drilling in the Bakken region of northwest North Dakota.
Hydraulic Fracturing Photos
John Fenton and his
neigbors deal with the impacts of gas
drilling and hydraulic fracturing daily.
Click on Learn More to
view photographs.

Powder River member Audrey Malan gives thanks for local food and local producers in a High Plains News radio commentary.